Sales and purchase agreement for Cimos signed with TCH Cogeme
Ljubljana, 14th October 2016 - President of the SSH Management Board Lidia Glavina and CEO of BAMC Imre Balogh signed today a sales and purchase agreement (SPA) for Cimos with the CEO of TCH Cogeme Gino Berti. Total value of the transaction is 110million € and the transaction is expected to be closed in first quarter of 2017, when all condition precedents are fulfilled. Among these are approvals of the necessary agencies for protection of competition and agreement with Croatian state agency for deposit insurance and bank resolution. This is an important step towards long term stabilization of Cimos that is one of the most important Slovenian manufacturers of components for the automotive industry, with a large multiplier effect on entire Slovene economy.
"We are satisfied that a challenging sale process, in which a lot of different stakeholders were included, led to today's signing of the sale and purchase agreement (SPA) with TCH Cogeme, a member company of the Palladio Holding Group, an investment company with a strong automobile pillar. In this extremely difficult sales process we managed to find a strategic partner who will support Cimos Group, have long term plans and have in the past successfully restructured several companies both in the automotive sector and in other industries. Today's signing is one of the key milestones towards long-term stabilization of Cimos operations and with the support of all key stakeholders this will bring several long term positive effects for our economy and the development of Slovene automotive components industry,« said Lidija Glavina President of the SSH Management Board, upon the signing of the Sale and Purchase Agreement.
»The sales agreement, signed today with TCH Cogeme is important for Cimos for many different reasons. Firstly, it is crucial for Cimos, its workers and its customers because it will support group's future business. Secondly, it is vital for Primorska region because Cimos is one of very few companies in this region that is on the way to future success. Thirdly, under the new owner, Cimos will return to be an important player in automotive components industry, which will provide beneficial long-term effects for the Slovenian economy. This is a joint success of all parties involved. I deeply believe that our efforts to eliminate the obstacles we have met along the way will finally bear fruits when the remaining tasks will also be fulfilled, and TCH Cogeme will make Cimos great again as its strategic owner and partner," said Imre Balogh, CEO of BAMC.
"The sale process of Cimos has taken in the last months a lot of engagement from our side and the side of the sellers that were represented by BAMC and SSH. After the conclusion of the transaction TCH Cogeme will immediately provide Cimos with 20 million € fresh capital in order to support and foster the planned investments for the modernization of Cimos production and the completion of continuing turnaround process. We will do our best to gain as soon as possible new orders for Cimos that the company lacked in the last years, also due to its uncertain operational and financial situation. The existing key customers of Cimos are also willing to support us," after the signing of the SPA said Gino Berti, CEO of TCH Cogeme.
"We are deeply satisfied that after a process which has lasted for more than a year the sale and purchase agreement with TCH Cogeme was signed today. Given the situation Cimos was in the last few years, this is a very important step to regain the confidence of our customers, suppliers and all other stakeholders that have stood by Cimos in this difficult time. This new alliance between Cimos and TCH Cogeme, the successful automobile pillar of Palladio Holding Group, represents a great base for the future of the company," said Gerd Rosendahl, CEO of Cimos.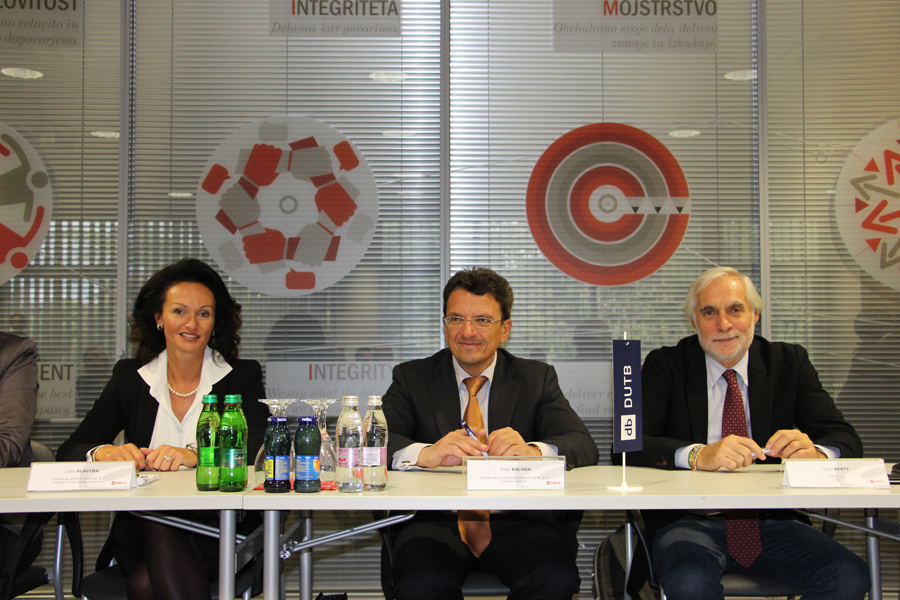 Foto: Bernarda Premru
Back to all news